Trump: Clinton email 'motherlode' found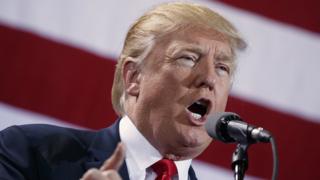 Republican presidential candidate Donald Trump has said he believes the FBI may have found the "motherlode" of Hillary Clinton's emails.
At a rally in Grand Rapids, Michigan, he said he hoped the Democratic candidate's 33,000 deleted messages could now be recovered.
The FBI is investigating new emails that may be linked to its probe into Mrs Clinton's private email server.
The White House said it would neither defend nor criticise the FBI decision.
The FBI has obtained a warrant to search the cache of emails belonging to a top Clinton aide.
Clinton emails – what's it all about?
Emails from the aide, Huma Abedin, are believed to have been found on the laptop of her estranged husband, former congressman Anthony Weiner.
There are reportedly 650,000 emails to search through on the laptop, but it is unclear who sent or received the emails or what they were about.
"Thank you, Huma," said Mr Trump. "Thank you, Huma. Good job, Huma. Thank you, Anthony Weiner."
The White House said moments earlier that it did not suspect the FBI's embattled director, James Comey, of trying to secretly influence the election through his announcement on Friday of the inquiry.
President Barack Obama's spokesman said James Comey is "a man of integrity, a man of character, a man of principle and he has a very difficult job".