Adnan Syed of Serial podcast has new trial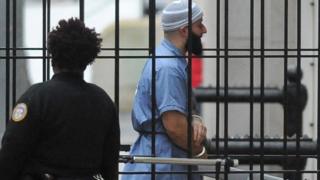 The man at the centre of popular podcast Serial will receive a new trial, a judge has ruled.
Adnan Syed was convicted of murdering his former high school girlfriend, Hae Min Lee, in 2000 in Baltimore.
His lawyers argued that his legal team did not contact a witness who saw him elsewhere at the time of the murder.
Millions of listeners tuned in to hear Syed's story through the podcast, which was broadcast online and over public radio in the US.
Asia McClain Chapman, an alibi witness, said she saw him at a library at the time of the murder.
His currents lawyers have also argued that information linking his mobile phone to the burial site is unreliable.