UK warship escorts Russian carrier in English Channel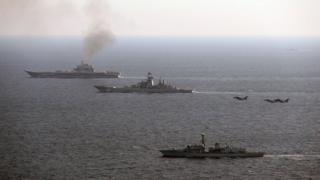 A British warship and three RAF Typhoons will keep "a close eye" on a Russian aircraft carrier and other ships as they sail past the UK.
The carrier Admiral Kuznetsov and other Russian ships are passing through the English Channel on their way back to Russia from Syria.
A Royal Navy Type 23 frigate, the HMS St Albans, was dispatched to meet it as it neared British waters.
The Ministry of Defence said the ships would be "escorted all the way".
Defence Secretary Michael Fallon said: "We will keep a close eye on the Admiral Kuznetsov as it skulks back to Russia; a ship of shame whose mission has only extended the suffering of the Syrian people.
"We are man-marking these vessels every step of the way around the UK as part of our steadfast commitment to keeping Britain safe."
The Admiral Kuznetsov, the only carrier in the Russian navy, is being accompanied by a nuclear-powered Kirov-class battlecruiser – the Pyotr Velikiy, and a salvage tug.
The Ministry of Defence said that at 12:30 BST on Wednesday, the Russian ships were off the coast of Dover.