Shoreham boat collision: One dead and two people missing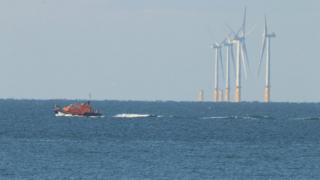 One man has died and another two are believed missing after a boat sank in a crash with another vessel off the West Sussex Coast.
A fourth man was rescued after the crash at about 05:50 BST, about two miles off the coast of Shoreham, the RNLI said.
A search is currently being carried out between Worthing pier in the west and Brighton in the east.
The coastguard said the search began after a man was found in the water.
He was rescued by passing fishermen and taken to hospital, the RNLI said.
'Clinging to a buoy'
Four people were believed to have also been on board a small vessel, a coastguard spokeswoman said.
BBC South East reporter Simon Jones said it was believed the four men had been on a small boat fishing when the crash happened.
"The one man who was rescued was found clinging to a buoy," he said.
"It is thought he'd been in the water for several hours."
It is believed the four men were on a boat out of Brighton Marina.
A spokesman for Sussex Police said: "The body of one man has been recovered from the sea and brought ashore by coastguard helicopter.
"A search of sea and coastline is under way to find any survivors."