Search for couple after lost 1970s wedding photos found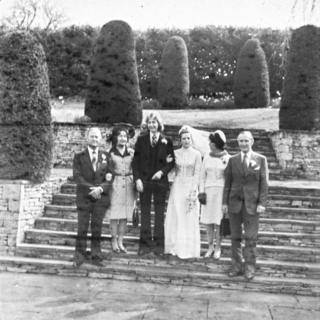 A photographer has launched a search for a mystery couple after finding their wedding photographs in an old camera.
Romanian Alex Galmenau discovered the images on undeveloped film inside a camera he bought online.
The amateur sleuth believes the wedding took place in Scotland in the 1970s.
He has discovered that one of the cars features in the images was first registered in Edinburgh in the early 1970s.
Now the professional fashion photographer has posted the images online, hoping to return the originals to the couple or a relative.
Writing on his blog, Mr Galmenau said he found the film inside a Balda Baldix camera he bought from an online seller near Birmingham.
It was exposed and undeveloped, he said.
"Of course I had it developed right away, and, as a surprise again, I was able to recover 10 quite usable images, especially when considering their age," he added.
He believes the pictures reveal a "discrete, low profile wedding" in a small town or rural area in the UK.
In one, confetti is shown being thrown over the newly-weds outside an AA two star hotel.
Mr Galmenau has already received an email suggesting the building might be in Gretna.
And he identified a wedding car as an Austin Maxi which was made in England between 1969 and 1981.
He added: "I searched online for the plate number and I discovered that car was actually first registered in Edinburgh, somewhere between August 1973 and July 1974."
At the end of his blog he said: "Obviously, a happy end will complete this beautiful story.
"Your help is needed to share this to all your British friends.
"Who knows, maybe someone will hopefully recognise his/her family, and I'll have the opportunity to return these images to those entitled to receive them."