River Dart in Totnes searched for boy, 16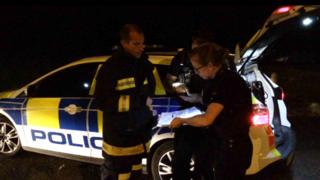 A teenager is feared to have fallen into a river after taking a so-called "new psychoactive substance" (NPS).
The 16-year-old was reportedly seen running naked near the River Dart in Totnes in a "distressed state" after he is believed to have taken the former "legal high", police said
Devon and Cornwall police said they believed he entered the water at about 18:30 BST on Friday.
Police divers have been searching the river.
Acting Sgt Kevin Rowe told the BBC the boy had been with a group of friends before police were called.
Sgt Rowe said there was a "possibility he may have taken some sort of [formerly] legal high which has had an adverse effect on his behaviour and caused him to behave quite irrationally".
He said that, due to the "significant risk of harm" to the boy, the force had called on the coastguard and fire brigade to assist with the search.
At the scene: BBC News Correspondent Simon Clemison
As Totnes sleeps, search teams head out to scour the area close to the river where the teenager was last seen.
Armed with torches – some strapped up their heads – and above all, hope, the Dartmoor Rescue Group is used to this work. The landscape here can be unforgiving and many have struggled before.
Police, rescue crews, boats, divers, a helicopter – all come and go.
The difficulty is trying to predict where a 16-year-old boy – who may not have been thinking straight – could have ended up. A long night beckons.
Efforts to find the boy would continue through the night, he said.
New psychoactive substances, formerly known as "legal highs", are synthetic versions of drugs such as amphetamines and cannabis designed to mimic their effects.
Blanket legislation outlawing NPS was passed earlier this year.