Mohammed Abdallah guilty of joining Islamic State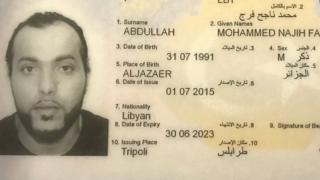 A British man has been found guilty of travelling to join so-called Islamic State in Syria.
Mohammed Abdallah received help from his brother Abdalraouf, who set up a "hub" of communication for would-be fighters from his home in Manchester.
The Old Bailey heard the 26-year-old intended to meet three fellow jihadis in Syria.
Abdallah, of Westerling Way, Moss Side, Manchester, was convicted following a trial lasting more than four weeks.
He was found guilty of possessing an AK47 gun, receiving £2,000 for terrorism purposes and membership of IS.
Abdallah was remanded into custody until his sentencing on Friday.
The jury heard the defendant was assisted by his disabled younger brother Abdalraouf, who was previously jailed for helping other members of the same network.
Abdalraouf was left paralysed after he was shot while taking part in the 2011 Libyan uprising.
His brother was outed as an IS fighter last year when an IS registration document listing him as a "specialist sniper" was leaked to Sky News by a defector.
The court heard how the defendant arrived in Britain as a refugee at the age of three after his family fled the Gaddafi regime in Libya.
Abdallah went to Burnage High School in Manchester and also attended Didsbury Mosque, where Manchester Arena suicide bomber Salman Abedi was also known to have worshipped, it can now be reported.
Abdallah previously said he failed to pass any exams and was "not particularly religious", preferring to spend time drinking and smoking cannabis.
In 2011 the brothers joined the "Tripoli Brigade" and during a bloody battle against the Gaddafi regime, Abdalraouf was shot and paralysed from the waist down.
Jurors were shown video footage of both siblings handling heavy Russian-made machine guns on vehicles in Libya.
In the summer of 2014, Abdallah headed to Syria via Libya with fellow Libyan Nezar Khalifa, 27, the jury heard.
Prosecutor Mark Heywood QC said they planned to join IS with former RAF serviceman Stephen Gray, 34, and Raymond Matimba, 28, who were also from Manchester.
Gray was turned away in Turkey, but Matimba eventually caught up with the others and recently appeared in footage with the late IS killer Mohammed Emwazi, known as Jihadi John.
In 2016, Sky News received files from an IS defector which listed Abdallah as a specialist sniper with expertise with the "Dushka", a Russian heavy machine gun, and fighting experience in Libya.
His record, which had the IS flag in the top right-hand corner, listed his former occupation as "supermarket vendor", although jobless Abdallah told jurors he got by in Britain by stealing and selling cannabis.
The form listed Manchester recruiter Raphael Hostey, aka Abu Al-qaqa Al Britani, as a reference for Abdallah, as well as a "family friend", the Libyan narrator of an IS video entitled Demolishing Borders.
Giving evidence, Abdallah denied swearing allegiance to the jihadi group, claiming he went to Syria to help deliver $5,000 to the poor.
He said someone else must have filled out the registration form without his knowledge.