Manchester mosque 'seriously damaged' in fire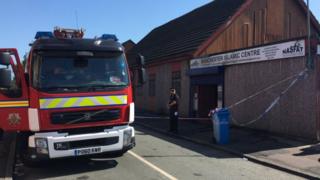 A mosque has been severely damaged in a suspected arson attack.
Five fire engines tackled the blaze at about 23:43 BST on Sunday at the Nasfat Manchester Islamic Centre, in Droylsden Road, Manchester.
Mosque spokesman Shamusideen Oladimeji said he believed it was arson. The building was the target of an arson attack three years ago.
Greater Manchester Police (GMP) could not confirm if the fire was being treated as a hate crime.
A GMP spokeswoman said it was carrying out a joint investigation with Greater Manchester Fire Service.
Mr Oladimedji said: "It has been seriously damaged – the police won't let us in.
"We don't know why this happened. We try to be good neighbours and we try to be involved with our local community."
Nasfat (Nasrul-Lahi-l-Fathi Society of Nigeria) opened the centre in 2009 and it has about 300 members.