Britain First's Paul Golding and Jayda Fransen charged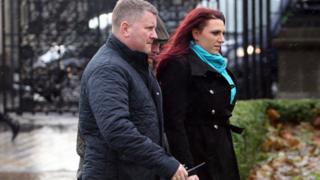 The leader and deputy leader of far-right group Britain First have been charged with using threatening, abusive, insulting words or behaviour.
The charges against the group's leader, Paul Golding, relate to speeches made at a Northern Ireland Against Terrorism rally on 6 August this year.
The charges against the deputy leader, Jayda Fransen, relate to an incident at a peace wall in Belfast on 13 December.
Ms Fransen, 31, is due to appear at Belfast Magistrates' Court on Friday.
Mr Golding, 35, is expected at the same court on 10 January.
Peace walls are used to separate Catholic and Protestant residents in Northern Ireland, in areas where tension between the two communities can run high.