Ann Maguire murder: 'Missed chances' to stop teacher's killing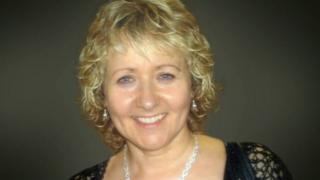 There were "missed opportunities to share and record problem behaviour" before a teenager murdered a teacher in a classroom, an inquest jury has said.
Ann Maguire, 61, was stabbed to death by Will Cornick, 15, at Corpus Christi Catholic College, Leeds, in April 2014.
A jury at Wakefield Coroner's Court returned a conclusion of unlawful killing.
Cornick, who admitted her murder, was jailed for life and ordered to serve a minimum of 20 years in custody.
The jury added: "Overall communication leading up to the incident was inadequate.
'Alcohol no concern'
"There were missed opportunities to share and record problem behaviour. "
It also said: "The safeguarding policy was not followed as no 'cause for concern' was recorded around the pupil's use of alcohol."
Mrs Maguire's family had campaigned for a full inquest, believing more could have been done to prevent her death.
Over six days, the jury of six women and five men at Wakefield Coroner's Court heard how Cornick stabbed the Spanish teacher seven times with a 34cm kitchen knife.
On the morning of the attack, the inquest was told, Cornick told a number of children what he planned to do and also how he wanted to kill two other teachers at the school.
Much of the hearing focused on why none of these children reported what they had heard before the tragedy.
But coroner Kevin McLoughlin said he had taken the decision not to call the teenagers to give evidence.