Budget 2017: Funds for robotics and 5G research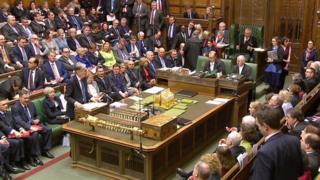 Funding for research into robotics and a next-generation 5G mobile network, has been announced by Chancellor Philip Hammond as part of his Budget.
There was also a promise of more money to support the development of driverless cars.
The funds for the hi-tech research come from the National Productivity Investment Fund (NPIF), which was announced by the chancellor last year.
However, one expert said the money was unlikely to be enough.
Mr Hammond's spending commitments included:
£270m to put the UK "at the forefront" of disruptive technologies including robotics, biotech and driverless vehicle systems
£16m to build a new 5G mobile hub at research institutions
funds for 1,000 new PhD and fellowship positions in science, technology, engineering and mathematics (Stem) subjects
£200m to support local "full-fibre" broadband network projects that are designed to bring in further private sector investment
The promises were welcomed by one robotics lecturer.
"Robotics and AI is set to be a driving force in increasing productivity, but also in solving societal and environmental challenges," commented Dr Sabine Hauert from the University of Bristol.
"It's opening new frontiers in off-shore and nuclear energy, space and deep mining. Investment from government will be key in helping the UK stay at the forefront of this field."
The sums, however, are smaller than those announced by some other countries. For example, the US Department of Transportation proposed a 10-year plan to invest $4bn (£3.3bn) in self-driving cars under President Obama.
Another academic suggested the funds were insufficient in light of competition for talent from tech companies.
"We lost our best machine learning group to Amazon just recently," commented Prof Noel Sharkey, a robotics expert at the University of Sheffield.
"The money means there will be more resources for universities, which may help them retain their staff.
"But it's not nearly enough. The government says it wants this to be the leading robotics country in the world, but Google and others are spending far more, so it's ultimately chicken feed.