Keith Vaz joins Commons justice committee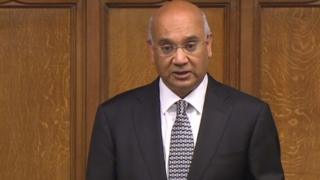 Labour MP Keith Vaz has comfortably survived a bid to prevent him getting a seat on a House of Commons committee.
Conservative MP Andrew Bridgen tried to block the appointment to the justice committee following newspaper claims that Mr Vaz paid for the services of two male sex workers.
But his attempt was rejected in a Commons vote by 203 to seven.
Mr Vaz quit as chairman of the influential home affairs committee in September.
Electing MPs to vacancies on committees is usually uncontentious, with each party given a set allocation of places.
Labour put forward Mr Vaz and Kate Green for the two vacant places on the justice committee, which is chaired by Conservative Robert Neill.