Viola Beach 'did not suffer' after crash, inquest says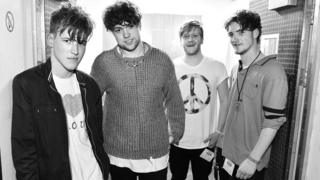 An inquest into the deaths of British band Viola Beach after a crash in Sweden has heard that "none of the young men will have suffered".
The four-piece group and their manager, who were aged between 19 and 35, died on 13 February following a gig in Stockholm.
Their car plunged off a bridge into a canal, about 18 miles from the capital.
The inquest heard no trace of alcohol or drugs was found in the blood of manager Craig Tarry, who was driving.
Post-mortem examinations also showed the four band members had not taken drugs and had only consumed small amount of alcohol.
The band's agent Graham Bennett told the inquest at Warrington Coroner's Court that the up-and-coming group were in Sweden for a festival showcasing young artists.
Viola Beach had already played at the Reading and Leeds festivals last year and the Stockholm event was their first gig outside the UK.
After the performance, they were travelling in a black Nissan Qashqai car near the Södertälje Canal, about 18 miles from the capital when a bridge opened to let a boat pass underneath.
The inquest heard that the car was slightly over the speed limit as it was travelling at 108km/h (67mph)in a 100km/h zone.
Warning lights
In a written statement, a lorry driver said he saw the car drive around queuing traffic at the bridge before hitting the barriers.
The inquest also heard that the car hit a raised section of the bridge before plunging 25m, hitting the water within 15 seconds.
The crew of a passing boat saw it fall but initially thought it was ice.
Swedish police said the vehicle had no deficiencies and the road was not slippery.
One warning light on the bridge was out of order but there were at least 10 warning lights and flashing signals, the inquest heard.
---
Who were Viola Beach?
Four-piece band from Warrington, Cheshire
Kris Leonard – guitar, lead vocal; River Reeves – who grew up in Cornwall, guitar; Tomas Lowe – bass; Jack Dakin – drums
Formed in May 2015
Released debut single Swings & Waterslides last year and put out their second single Boys That Sing on 22 January
Played several BBC Introducing sessions
Were due to travel to the South By South West (SXSW) festival in Texas in March 2016
---
In the wake of their deaths, the band's first single Swings & Waterslides reached number 11, while Coldplay paid tribute at Glastonbury by performing their song Boys That Sing.
Posthumously, Viola Beach scored a number one album in August.
The self-titled debut was compiled by the band's families, using live sessions and studio recordings, many of which were originally bound for an EP.