Great British Bake Off 2016: Who's in the final?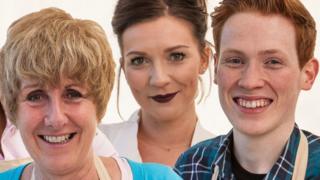 Three out of 12 contestants have "proved" themselves worthy of a place in the Great British Bake Off final – Jane, Candice and Andrew.
They now have three bakes left to impress judges Mary and Paul – a signature, a technical and a showstopper.
Check out their profiles below to see if they've got what it takes to rise to the top, or flop, at the final hurdle.
Candice Brown
In a bite: Secondary school PE teacher Candice lives in Bedfordshire. She learned to bake from her nan. Candice can often be found baking in her pyjamas at home (which she shares with her boyfriend and pet pug)!
Times as star baker: Three
Why she could rise to the top:
Candice has won star baker three times – that's more than any of the other finalists!
Her gingerbread pub creation in week two was one to remember, and the striking peacock showstopper she created in the quarter-finals has made her a firm favourite to win the show.
Eagle-eyed fans will remember that a certain someone last year did a peacock cake – Nadiya Hussain. She, of course, went on to win!
Why she could she sink:
Candice was left in tears in week three when her bread loaf was uncooked, and she faltered during the quarter-final signature bake when her cheesy fish pies leaked.
Will she hold it together for the final?
Andrew Smyth
In a bite: Andrew is originally from County Down, Northern Ireland, and works as an engineer designing jet engines. He was taught to bake by his mum, as well as his gran, and he likes to be ambitious when designing his bakes!
Times as star baker: Two
Why you might fondant fancy his chances:
Andrew's first win as star baker came in Dessert Week when he made delicious ice cream mousse cakes and displayed them on a Ferris wheel. His second star baker title came in the Patisserie Week semi-final.
If he continues to get that creative with his bakes, he could come out on top!
Why things could go flat:
Andrew felt the pressure when he scraped through Botanical Week with his plain cake disappointing Mary and Paul. Can he step up his flavour game for the final to be crowned the winner?
Jane Beedle
In a bite: Jane is a garden designer who lives in London. Her grandfather owned a bakery. She got into baking at a young age and usually gets up at 5am in the morning to bake bread!
Times as star baker: One
Why she could blossom in the final:
Jane was the first person to win star baker. Her baking has been pretty consistent ever since, with some of her bakes being inspired by her work, like this floral showstopper.
Why could she finish a soggy bottom:
Of course, no-one's perfect… Jane's Yorkshire puddings weren't her best bake and she ended up rolling her roulade the wrong way in Dessert Week!
But whatever happens next Wednesday, we're sure her two children are very proud of their mum for making it to the final of the Great British Bake Off.
Congratulations to all the 2016 contestants. May the best baker win!