UK wage growth continues to lag inflation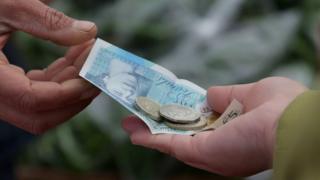 Wage growth fell behind inflation for a seventh month in a row, according to new employment figures.
The Office for National Statistics said average weekly wages rose by 2.3% in the three months to October, below inflation at 3%.
Real earnings, which take into account the cost of living, fell by 0.4%
Unemployment declined by 26,000 to 1.43 million, while the jobless rate remained at 4.3%, the lowest since 1975.
However, while unemployment fell, the decline was not as steep as the 59,000 drop recorded in the three months to September.
The pressure on household finances is likely to worsen as the most recent figures for inflation showed a rise to 3.1% in November – the highest in nearly six years.
John Hawksworth, chief economist at PwC, said: "Real pay levels continue to be squeezed, and we expect this to persist for at least the first half of 2018, further dampening consumer spending growth."
However, average weekly wages were ahead of the 2.2% rise in the three months to September.
Ben Brettell, senior economist at Hargreaves Lansdown, said: "The pay squeeze continues for now, but with wages growing a little more strongly and inflation set to fall back in the new year, this looks like it'll come to an end in the next few months."
The number of people claiming unemployment benefits rose by 5,900 to 817,500 in November.
Economists had expected the number of claimants, which is considered to be a potential early warning sign of an economic downturn, to rise by 3,200, according to Reuters news agency.
The number of people in employment also dropped, down by 56,000, with men the biggest casualties of the decline.
The level of employment fell by 50,000 for men and by 6,000 for women. The biggest fall was for men aged 18-24 years old.