Kingfisher profits fall as chain revamps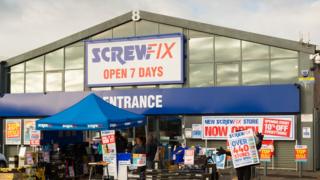 Profits at Kingfisher, the owner of B&Q and Screwfix, have fallen 5.9% to £402m amid what the company describes as "disruption".
The company, whose main operations are in the UK and France, is working its way through a five-year plan, which it began 18 months ago.
This includes streamlining the products it offers across its outlets. This has meant offering products it planned to phase out at discounted prices.
Sales across the firm were down 1.3%.
It says its five-year plan will deliver a £500m "sustainable" annual profit uplift by the end of 2021, which will cost £800m.
But it says that until it has finished streamlining the business, it will not be able to expand by much.
Kingfisher employs 25,000 people in the UK and Ireland and 20,000 in France.
It also trades in Poland, Russia, Turkey and Spain and is starting businesses in Romania, Portugal and Germany.