GKN issues profit warning over mystery charges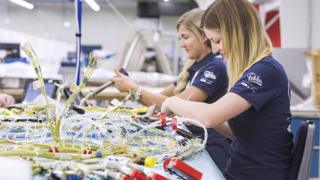 One of the UK's biggest engineering firms, GKN, has warned that full-year profits will only be slightly above the level reached last year.
GKN blamed "operational challenges" in its North American aerospace business and a £40m charge resulting from "two significant external claims".
It said the claims were "commercially sensitive" and gave little more detail.
In July, GKN said it expected sales growth to beat the overall market, but did not give a profit forecast.
GKN said one of the legal claims concerned its aerospace business and another relates to its business that makes parts for the car industry, but did not elaborate further.
The company also said that trading at its aerospace business had been "disappointing".
It blamed lower profit margins and what it described as "operational challenges".
In particular, GKN is taking a £15m charge to cover problems at its plant in Alabama.
GKN's chief executive Nigel Stein said: "In light of the trading performance in North American Aerospace, we are redoubling our efforts to improve our operational performance in that business, as well as developing actions to accelerate margin improvement plans across the group."
Shares in GKN fell more than 7% in early trading.