Apple: iPhone 7 helps US giant return to growth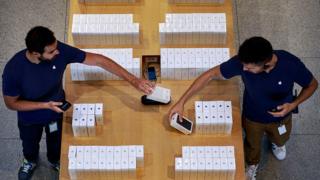 Apple has reported its highest quarterly revenue, as the iPhone 7 helped it return to a growth in sales in the final three months of 2016.
In its first full quarter since the iPhone 7's release, Apple reported net sales of $78.4bn (£62.3bn), up 3% on the same period a year ago.
Chief executive Tim Cook said Apple had sold "more iPhones than ever before".
It had also set new records for revenues from its Mac, Apple Watch and services divisions, he said.
iPhone recovery
"We're thrilled to report that our holiday quarter results generated Apple's highest quarterly revenue ever, and broke multiple records along the way," Mr Cook said.
Apple had suffered three quarters in a row of falling revenue as intensifying competition, particularly from Chinese rivals, hit sales of its flagship iPhone.
In April, the firm reported its first fall in quarterly revenue since 2003, hurt by slowing sales in China.
A continued slowdown in iPhone sales led to Apple then reporting a drop in annual revenue in October, the first such fall in 15 years.
Apple shares rose 3% in after-hours trading following signs of a recovery in the latest results.
The firm said it had sold 78.3m iPhones in the three months to 31 December, up from 74.8m a year before.
It reported revenue of $54.3bn from iPhone sales, plus $7.2bn from the Mac, $5.5bn from the iPad, $7.1bn from services and $4.0bn from other products, including the Apple Watch.
However, Apple warned that iPhone sales would miss analysts' expectations in the current quarter.
It suggested that customers were holding back on phone upgrades in anticipation of the launch of the tenth anniversary iPhone later this year.